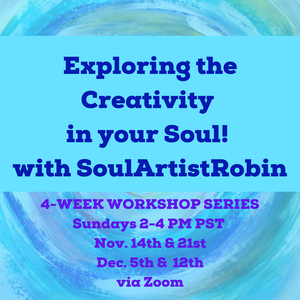 Spend 4 weeks exploring the Creativity in your Soul!  
In this class we will explore different techniques and activities to unlock your unique creativity.  This class is for all those seeking to create art through Divine Guidance and unearth Spirit's vision for their artistry.

WEEK ONE: Creativity Meditation and Creation
WEEK TWO: Exploring Color
WEEK THREE: Creative Play 
WEEK FOUR: Freestyle Exploration of More Techniques
Starts 11/14/21 Sundays 2-4 pm PST via Zoom. 
Sunday, November 14, 2021 
Sunday, November 21, 2021
Sunday, December 5, 2021
Sunday, December 12,2021
Sign up by Friday, November 12th to receive the $70 OFF price.
Zoom link will be sent out via email by 8pm PST on the 1st Saturday before the workshop. 

This will be an intimate class with a limited number of participants.
Supplies NOT included.
General Supplies:
Pencils, Watercolors, acrylic, crayon, pastels, ink, markers are all welcome for the weekly processes.
Special Supplies:
Week 3: Collage materials and fingerpaint
Week 4: Poster board + blindfold, handkerchief, or scarf + 5 types of drawing/painting instruments (ex. A pen, pencil, pastel, paint, ink, crayon, marker).
Refund Policy:
No refunds. However one reschedule is allowed. Please cancel at least 24hrs in advance of first class to reschedule for the next 4 week session. No further rescheduling allowed. If you miss the next cohort your class credit will be forfeited.  Thank you for your understanding.