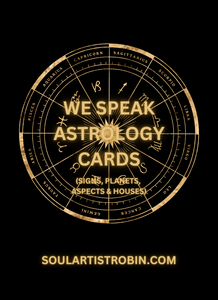 Astrological Symbol Cards by Soul Artist Robin
Introducing the Astrological Symbol Cards! This exquisite deck of 55 cards features planets, signs, houses, and aspects that are essential in astrology. Each card boasts a unique beige and black design with a nice sheen, making them not only informative but also visually stunning. These cards are perfect for anyone interested in exploring the intricacies of astrology, whether you're a beginner or an experienced practitioner. Item ships in 10-15 business days.
Here are some of the physical features that make these cards special:
Full-color print with a decorative protective clear plastic container
Dimensions of 63.5mm x 88.9mm, or 2.5" x 3.5"
Each card has a unique beige and black design with a sheen
A deck of 55 cards that includes planets, signs, houses, and aspects
If you're looking to deepen your understanding of astrology or looking for a unique and meaningful gift for a loved one, the Astrological Symbol Cards are the perfect choice. With their stunning design and comprehensive content, these cards are sure to become a beloved part of any astrologer's toolkit. So why wait? Click the button and purchase the Astrological Symbol Cards today!